The Potager Medallion Quilt BOM
Block of the Month Quilt
The Potager Medallion commencing October 2017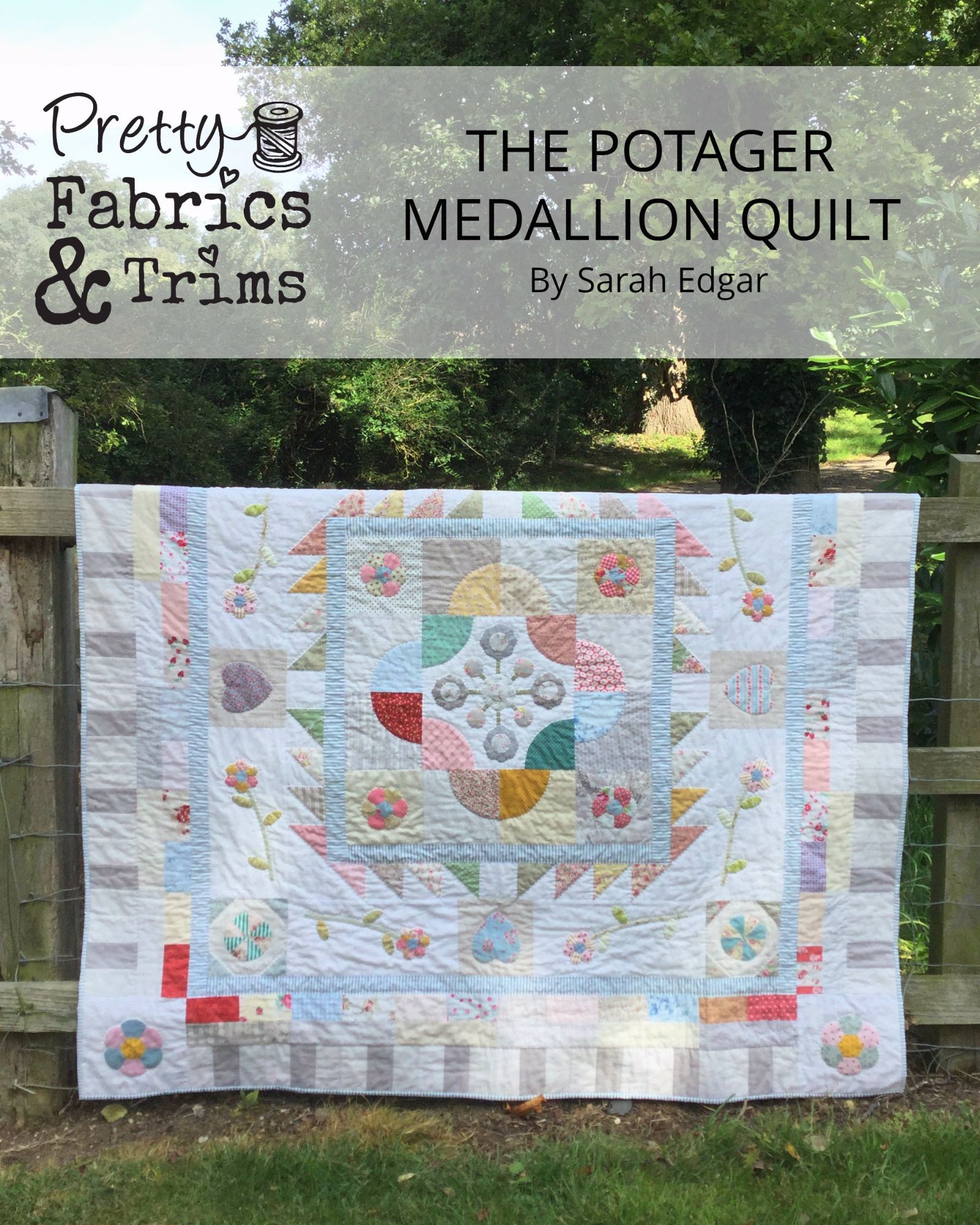 *** SORRY 'THE POTAGER MEDALLION' BLOCK OF THE MONTH IS NOW FULLY SUBSCRIBED! ***
Please SIGN UP to our Newsletter to be first to hear about future Block of the Month Clubs.
What is a Block Of The Month (BOM) Club and how does it work?
A block of the month is a parcel full of loveliness that you will receive directly through your letterbox each month for a year. It will include all the fabrics* and if required, English Paper Pieces required for you to sew that months block, plus of course, detailed instructions for how to piece each block will also be included.
At the end of the year you will have received enough pretty fabric and instructions to make your very own 'Potager Medallion' Quilt Top.
*The quilt has has a very scrappy feel with lots of different fabrics used. Each month, you will receive all the fabrics that you need to complete that months block. These will be received as small strips and little pieces ready for you to accurately subcut as per the cutting instructions that will also be enclosed.
How big is the finished Quilt?
The Quilt measures 64" x 64"
How long will the Club run for?
The club will run for 12 months commencing in October 2017 and will run through to and including September 2018.
What techniques will be used?
The quilt combines a mix of Machine Piecing, English Paper Piecing and Applique*.
*Sarah used the Turn Through Interfacing method for the applique, but you could use Needle Turn or Raw Edge.... it is entirely up to you.
To assist with the different techniques throughout the year you will find a whole host of tutorials on our Blog HERE.
Will I receive exactly the same fabrics as used in the sample?
We will as far as possible send the same fabrics as Sarah used, if this is not possible then rest assured we will send something equally as scrumptious!
What threads did Sarah use?
Sarah used Aurifil 50wt thread, both on the machine and for all the hand stitching. These are not included. However a thread pack to co-ordinate will be made available. More information on this soon!
What other supplies will I need?
Applique supplies depending on your chosen method, EPP supplies again depending upon your chosen method (but the papers will be supplied when needed), a 1/4" Bias Binding maker plus your usual patchwork and sewing related tools.
Will there be a Facebook group for Club members?
Yes......... we have a dedicated Facebook Group for our Block of the Month Club members! It is a private forum only open to Pretty Fabrics and Trims Block of the Month club members, somewhere where you could share your progress month by month, ask for advice from fellow club members, to share helpful tips and to make quilty friends.
Can I purchase the pattern on its own?
No, not at this moment in time......many hours have been spent designing this quilt specifically for our Block of the Month Club......Sorry!
PLEASE NOTE ~ By signing up to the BOM club you agree to take part in the 12 month program and it is non cancelable.
The Monthly Club cost including postage is:
UK Club Price ~ £18.50 (Via 1st Class Mail)
EU Club Price ~ £21.50 (Via Standard Airmail*)
International Club Price ~ £23.00 (Via Standard Airmail*)
*Should you wish to upgrade to Priority Mail please do get in touch.
The first months payment will be due on the 1st October 2017 and subsequent payments will be due on the 1st of each Month. Parcels full of loveliness will be posted within 2 working days of payments being safely received.
Payments will be made by a monthly subscription service via your Paypal account to us, for those of you already in our Flirty 30's Club or our previous Block of the Month Club will be familiar with this. By setting up a Paypal subscription to us your monthly payments will automatically be debited from your Paypal account each month. Once it is in place you do not need to do anything, with the exception of cancelling the subscription at the end of the Block of the Month. Don't worry we will remind you and should you inadvertently forget, we will obviously refund any over-payment without hesitation!
We will contact Club members to arrange this, nearer the time.
We are also more than happy for you to make your monthly payment to us from your Bank Account directly into our Bank Account, should prefer this method, simply get in touch once you have signed up and we will provide you will all the required information.
We are sorry, but Vouchers or Coupon Codes cannot be used to purchase a subscription.
The monthly bundle cannot be shipped with other shop orders, we're sorry for any inconvenience!