"I have done at least 3 of your quilts all of which were beautifully packed , explained and completed. The fabric devine! "
"I took part in Sarah's Sampler BOM and I can honestly say it was foolproof! Step by step instructions were really clear and each block was gorgeous in its own right. I would highly recommend any of the quilt patterns from Pretty Fabrics and Trims and will not hesitate to do another one!"
"I signed up for 'A Little Happy Year' block of the month in 2019, as I could see it was a combination of Patchwork, English Paper Piecing and Applique. Fabulous design with lots of techniques, but Sarah is always on hand with 'A little happy tutorial' to help if you get stuck. Highly recommended."
"I have really enjoyed stitching the English Frame block of the month! The instructions have been carefully and meticulously prepared resulting in absolute clarity for the user. The fabric choices work very well together too. One very important thing is that the fabric in the kit, had been cut generously!
" I have been a huge of fan of the Pretty Fabrics and Trims Block of the Month programmes since they launched. I have so far taken part in all of them and can honestly say there isn't one I haven't loved."
" I've just finished my first Block of the Month. I did quite a bit of research, but the reason I chose a Block of the Month from Pretty Fabrics and Trims was: lots of different techniques to learn, beautiful fabrics, never in a million years would I put together, but they worked amazingly, the instructions were really food to follow and value for money"-
"I just feel I need to congratulate you on the Happiness is Home Sweet Home BOM. I did the dark versiob and your choice of colours is 'just up my street' Classy! Love it!"
"Pretty designs, easy to follow instructions, superb fabrics and a pleasure to sew, couldn't be happier with my finished quilts which have now been gifted and well received."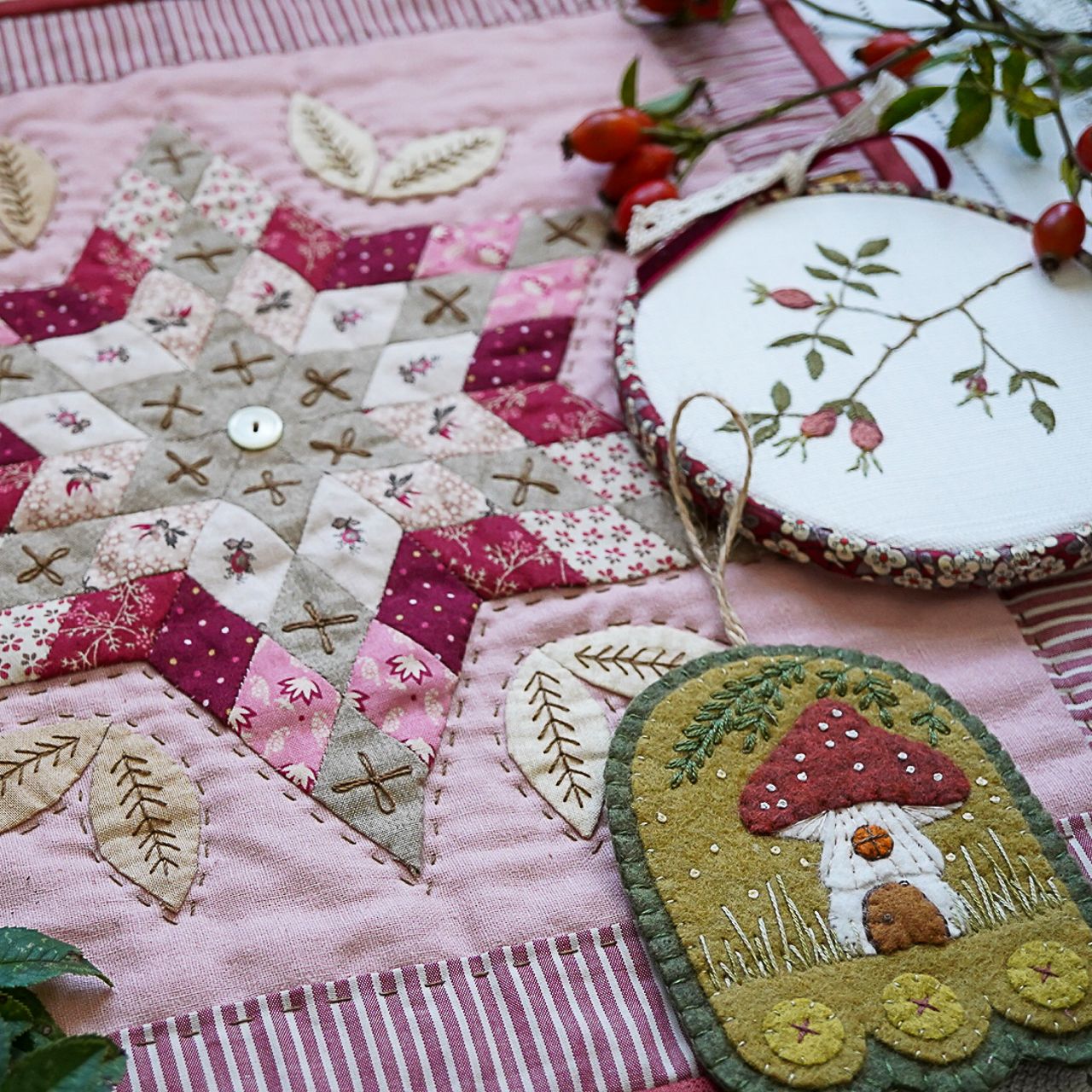 Ssssshhh...join our 'secret' Quarterly club! Every 3 months, you will receive:
An exclusive kit, designed by Sarah, to make a seasonally inspired mini quilt... this might include EPP, applique, embroidery, machine piecing, hand quilting.... lots of happy stitches!
A second 'mini' kit, again designed by Sarah & exclusive to Club members... for example, a felt decoration or a little embroidery design....think small and pretty!
A 'little happy' extra..which will be a little something special, either chosen or designed by Sarah, just for you!
Our intention is that the smallest of sneaky peeks may be shared on social media, but the contents of the quarterly parcels will be kept secret until released. Rest assured, the projects will be in keeping with Sarah's unique style! *Both the main and smaller kit will be available exclusively to club members for 6 months.
Sign ups open every 3 months.... CLICK HERE FOR MORE INFORMATION
Now in its fifth year, the Happy Stitches Journal project is our unique and exclusive subscritpion club to create a beautiful hand quilted fabric book, each one designed by Sarah. Now, with a choice of four different volumes!
Reservations for each journal open annually in late October and the clubs run for 12 months starting in January through to December.
Join us 2024 for a year of Happy Stitches.... CLICK HERE FOR MORE INFORMATION!