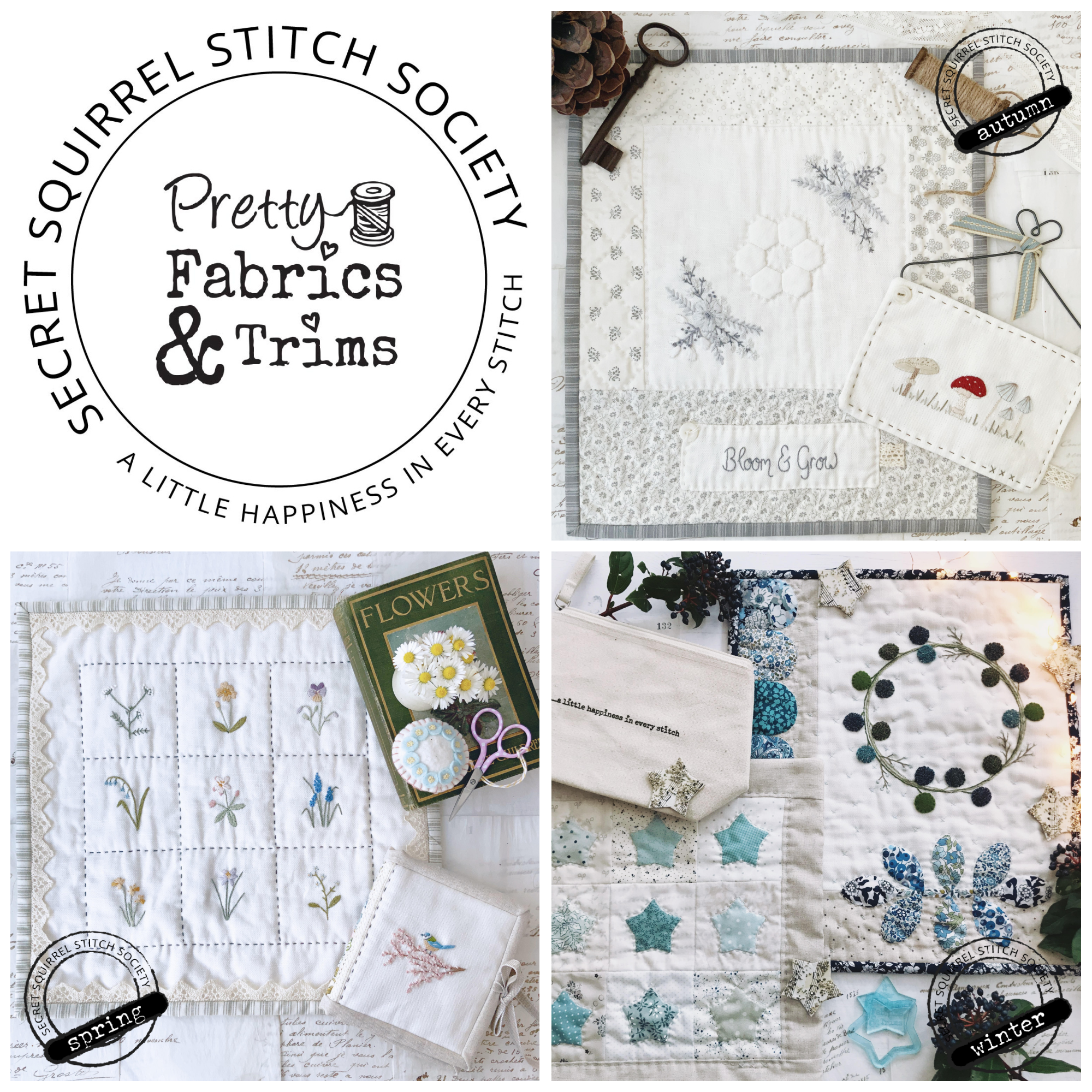 Ssssshhh...don't tell anyone, but our 'secret' Quarterly club is coming back for a 2nd year! Every 3 months, you will receive:
An exclusive kit, designed by Sarah, to make a seasonally inspired mini quilt... this might include EPP, applique, embroidery, machine piecing, hand quilting.... lots of happy stitches!
A second 'mini' kit, again designed by Sarah & exclusive to Club members... for example, a felt decoration or a little embroidery design....think small and pretty!
A 'little happy' extra..which will be a little something special, either chosen or designed by Sarah, just for you!
Our intention is that the smallest of sneaky peeks may be shared on social media, but the contents of the quarterly parcels will be kept secret until released. Rest assured, the projects will be in keeping with Sarah's unique style! *Both the main and smaller kit will be available exclusively to club members for 12 months.
Join us in January to sew a beautiful brand new quilt design! Featuring English Paper Pieced Stars, each one individual and named after a star inspired from a myth or legend.
The stars will all be sewn from gorgeous selection of Liberty Tana Lawn™ and will be appliqued to a background square. There will also be a pretty sashing.... but I'll share more at a later date.
This is perfect quilt for those who either feel a little daunted by a 100% EPP quilt or for those who like to use a range of techniques. There will definitely be lots of happy stitches to be enjoyed!
Sign ups will open mid November.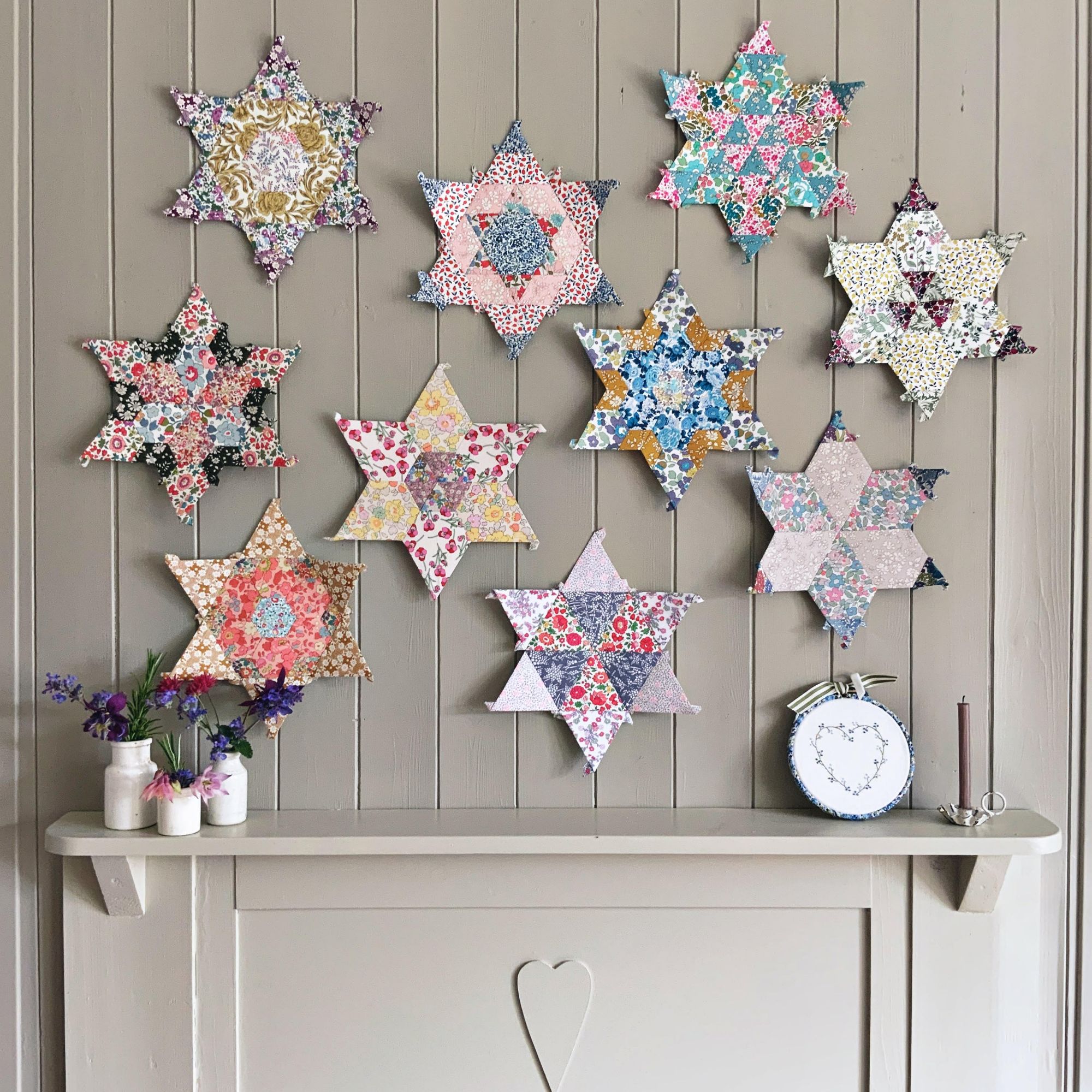 Back for a third year in 2022! Over 12 months, you will make a beautiful hand quilted fabric book, designed by Sarah. In addition, there are plenty of opportunities, should you wish, to add your own personal little pretty extras to the pages to make a unique and special heirloom fabric journal.
The fabric book includes 12 beautiful pages, each one sewn using a mix of techniques including hand embroidery (the designs are pre-printed on to a beautifully soft, cotton linen mix fabric), applique and English Paper Piecing. The feature fabrics are all beautiful Liberty Tana Lawn™.
Sign ups will open mid November.
Back for a second year, join us in 2022 to sew a beautiful hand quilted fabric journal, a keepsake book of happy stitches, that we're sure will become a much loved family treasure. One of the most popular features of Volume 1, which our Club Members have sewn throughout 2020, was to provide the opportunity to add their own personal little touches on some of the pages, such as a button or a piece of lace with a memory attached, or to add an embroidered word that holds a meaning ..... making their journals unique and special to them. Volume 2 will continue with this tradition.

A sampler book of sorts, each month you'll sew a new 'page' and in month 12 you will also make a beautiful hand quilted cover. The journal includes a mix of Sarah's hand drawn embroidery designs, (which are pre-printed on to a beautifully soft, cotton linen mix fabric) alongside applique, felt work and English paper pieced pages, using a mix gorgeous Liberty Tana Lawn™ and carefully curated fabrics.
Sign ups will open mid November.