SORRY, FULLY SUBSCRIBED!
Join us in 2020 to sew a beautiful hand quilted fabric journal, designed by Sarah. It will be a keepsake of happy stitches, that we're sure will become a much loved family treasure. There will also be opportunities to add your own personal little touches on some of the pages, this could be a button or piece of lace with a memory attached, or add an embroidered word that holds a meaning for you..... making your journal unique and special to you.
A sampler book of sorts, the journal includes a mix of Sarah's hand drawn embroidery designs, (which are pre-printed on to a beautifully soft, cotton linen mix fabric) alongside applique and English paper pieced pages, incorporating more of the gorgeous cotton/linen fabric with the prettiest Liberty of London tana lawn fabrics. Each month you'll sew a new 'page' and in month 12 you will also make a beautiful hand quilted cover.
We hope that you will join us for a year of happy stitches.
SORRY, FULLY SUBSCRIBED!
Our 'sell out' club for 2019, is back for a second run in 2020!
A 'Baltimore' quilt of sorts combining beautiful appliqued blocks set amongst an Irish chain. This pretty quilt will take you on a monthly journey celebrating the seasons, events and special holidays that we enjoy throughout the year.
The feature fabrics will be all Liberty of London Tana Lawns.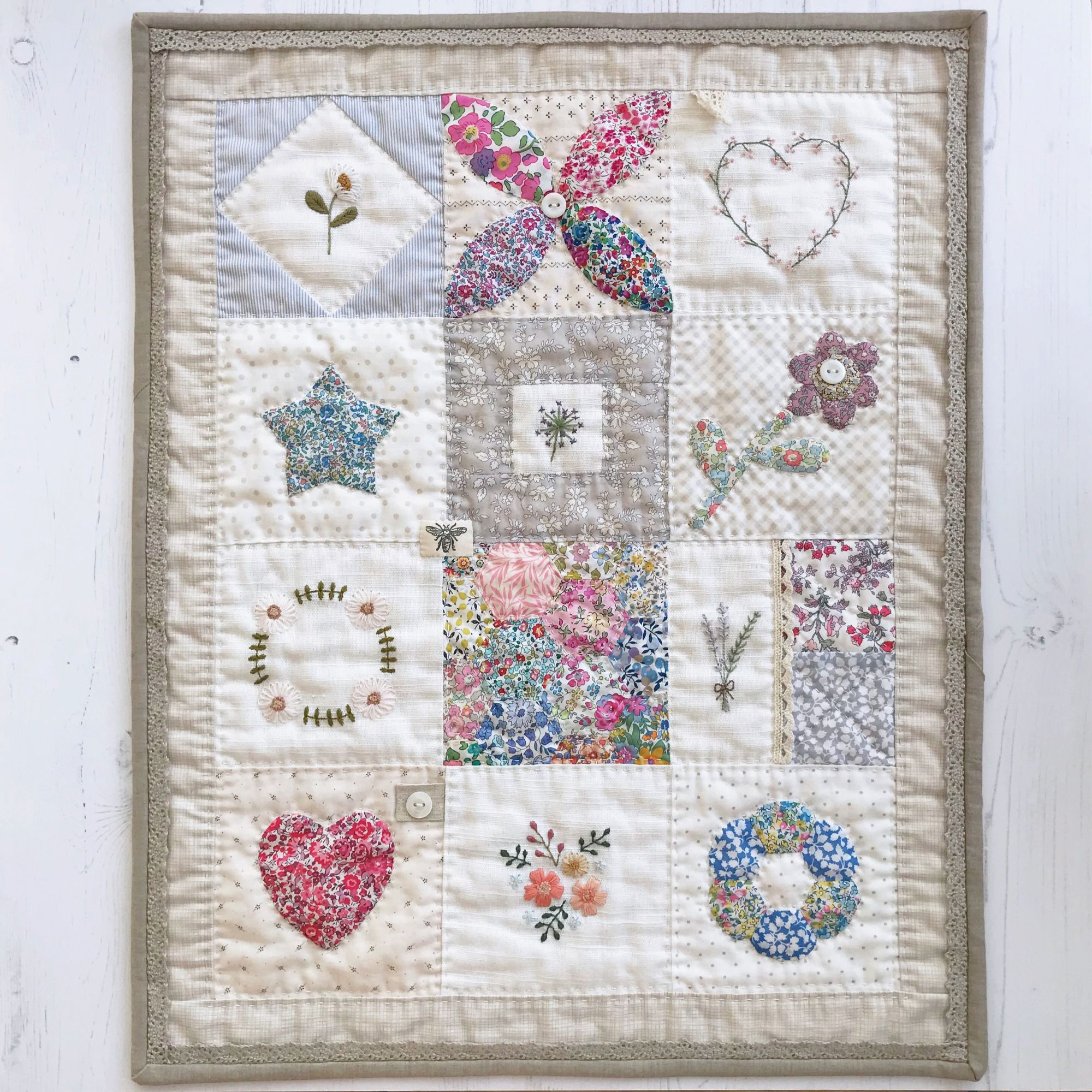 We're delighted to announce that by popular demand, The Summer Sampler is back for a second run! Incorporating lots of happy hand stitches including embroidery, English Paper Piecing and applique along side traditional piecing we will be making a wall hanging size quilt. The fabrics will be a gorgeous mix of Liberty of London Tana Lawns, lovely low volumes and a cotton/linen for the embroidery, which will come pre-printed with the embroidery designs, so need to transfer....plus Sarah will incorporate some of her favourite trims and vintage mother of pearl buttons. The overall feel will be light and pretty... a perfect project for sewing on the go!
The Summer Sampler will run for 4 months starting in November and your monthly parcel full of loveliness will include in addition to the pretty fabrics, all the embroidery threads required, plus in the final month, wadding, backing and binding fabric, plus a spool of Aurifil 12wt thread for the hand quilting.
Happy Hexie Club (Sep '19 ~ Aug '20)
SORRY FULLY SUBSCRIBED! It's no secret that English Paper Pieced Hexies are one of our favourite things ever to sew! We know that we're not alone, as our Happy Hexie Cushion kits are one of your most popular picks. We decided therefore, wouldn't it be fun to sew a lap size quilt version. We're thinking a lovely soft colour scheme to include our favourite faded reds, blues, taupe and greys on a scrappy mix of cream and white backgrounds for that quintesential English country look. This will be a perfect project for evening happy stitches whilst watching your favourite programme on tv or as a portable project for sewing out and about!

A Little Happy Year! (Sep '19 ~ Aug '20)
SORRY FULLY SUBSCRIBED! This quilt is very special to us because it was our very first Block of the Month club design.
Returning for a second run, with fresh new fabrics, but in keeping with the softness of the original.
English Frame Quilt (Sep '19 ~ Aug '20)
SORRY FULLY SUBSCRIBED!Based upon a traditional English framed quilt, this pretty quilt includes a lovely mix of Liberty quilting weight cottons, alongside some cherry picked fabrics from the 'workshop stash'.
The design itself is relatively simple and centres around an appliqued English Paper Pieced (EPP) hexagon wreath, with the hexies repeating in the borders alongside EPP diamonds and appliqued orange peels.

'Happiness is Home Sweet Home' B.O.M (Oct '18 ~ Aug '19)
SORRY, FULLY SUBSCRIBED
A pretty sampler quilt of sorts, it includes traditional blocks given a little Pretty Fabrics and Trims twist! The quilt incorporates a lovely mix of techniques, from machine piecing to applique and English Paper Piecing.
For the first time we are thrilled to offer a choice of colour schemes... choose from a lovely scheme of faded reds, blues, pinks, greys, taupe and brown OR a super pretty scheme of ditsy florals, dots, ginghams and stripes.
'Pretty Priscilla' Quilt B.O.M (Sep '18 ~ Aug '19)
SORRY, FULLY SUBSCRIBED!
'Pretty Priscilla' quilt is our first 100% English Paper Pieced club. Comprising of 48 blocks set in a 6 x 8 layout, the completed quilt will measure 48" x 64".
Each month you will make 4 blocks, which is a lovely and manageable amount of happy hand stitches!